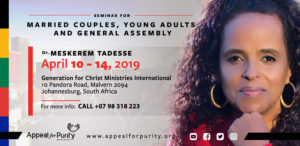 May the name of Jesus Christ be praised forever!
God is giving me yet another wonderful opportunity to minister to His people.
Johannesburg, South Africa!
I heard that there are many Ethiopians living in Johannesburg. So, if you live in Johannesburg, S. Africa, I invite you to come and worship God with me and the people of God at the Generation for Christ Ministries International Church from April 10 to 14.
For more info about the detail of this program, call the number you see on the flyer.
If you don't live in Johannesburg but know someone who does, please invite them on my behalf.
It is going to be a five-day-long program. I am going to have time with teens and young adults (singles) and I am also going to have at least four or five sessions with married couples.
So, as usual, I covet your prayers so I can minister to the people of God in fear of God that is glorifying and honoring to Jesus Christ. Thank you and may God bless you all! ///