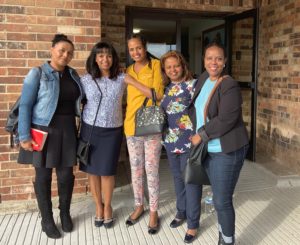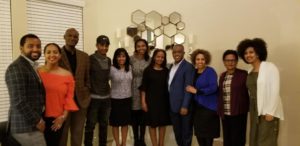 You remember that I missed last Monday, the President Day, a Federal holiday, to be home with my hubby and kids?
Maryland is expected to be covered by snow tomorrow and everything is closed. That means, my honey-bun and kids are going to be home, with me! Hooray! Praise God! I am serious! I was very sad for missing President's Day. But I am okay now.
Yes, I am back to Maryland, the land I love the most! It is just exciting to be home. I was on my pj today, the whole day because I had a bit long and exhausting but very successful and fulfilling weekend ever at Allen, TX.
Wow! People of God at Allen, TX, how can I thank you all enough! I have no words! Thank you so much for having me over! I have a bliss. I came to minister but God ministered to me through you in many ways. Thank you!
The highlight of my stay is the time I had with divorced women.
Huh! I don't know how to express my joy! And I want you, my Facebook friends, to meet at least four of these strong and courageous women (first picture). These women are young with young kids and they did everything they could to be alive today for their kids. What a wonderful time I had with them!
I am telling you, when girls sit together, something beautiful always happens! We laughed hard. We cried, kissed and hugged like nobody's business. At the end of the program, the gals decided right there to start to meet at least once a month to help one another. Isn't that awesome!
Yes, in whatever life circumstance we might find ourselves in (good or bad), we girls need each other. We can learn and draw strength and hope from one another. Thank you ladies for the wonderful time you gave me.
The next picture I am sharing with you is the picture I took with the Ethiopian Evangelical Church in Allen (EECA) church leaders after we had the most delicious dinner at a beautiful couple's home, the one you see on the pic on your left hand corner. The wife wears an orange top. She is Bezawit and her better-half is next to her, Solomon. They are parents of two nations (two handsome young boys). Bezawit and Solomon, along with other leaders, are the backbones of the family ministry of EECA. 
The others are also leaders of the church, including Pastor Biruk and his wife. The girl you see on the right hand corner is a mother of three nations. 
I especially want you all (I mean, single gals) to meet the young handsome man with a hat who is standing next to me on the picture, on my right side. His name is Mike Girma.
I know! He is very handsome! And guess what single ladies?
Oh, my! I am going to say it! Mike is SINGLE!
Okay, let me move on to the next topic before I put myself in trouble.
I had a wonderful time with wives only and husbands only (two different sessions). The husbands took the longest time because they had tough questions for me. One of their questions was something like this: "So, I heard you say 'this and that' in one of your YouTube videos and I was very upset with you. Can you explain for me what you meant?"
I love it! I had time to explain my points in detail. Isn't that fun?
I also had a short but very effective and productive time with teenagers and single young adults. The programs were scheduled back to back but I didn't feel tired until, on my way home back, I found myself sleeping in the plane. I slept through my flight. I didn't know anything until my plane landed in Maryland. Yes, I was very tired.
But praise God that God had answered all my prayers that I prayed for the program. May His name be praised forever!
As soon as I receive the copy of the video of my Sunday morning message, I will share it with you all. ///