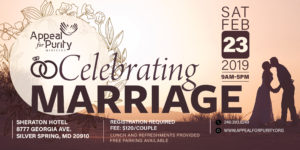 Brand new week with a brand new day! Praise the LORD!
I ain't listening to my soul! Remember my New Year resolution?
Yeah, so I am going to talk to my soul saying, this is the day that the LORD has made. Go ahead and rejoice and be glad in it!
Yes, I rejoice! Why? Because this is the day the LORD, the Creator of this Universe, has made. What a wonderful and good enough reason to rejoice because the Word of God says so, not me. (Psalm 118:24)
And I am excited too. Why? Because I have one wonderful announcement to make today to all married couples in the DMV area (DC, Maryland and Virginia).
Our annual marriage program hosted by Appeal for Purity this year will held for the third time, on Saturday, February 23, from 9am to 5pm at the Sheraton Silver Spring Hotel. Don't miss it. It is going to be one of those programs you attend and leave with a smile and a decision in your heart to give "a face-lift or tune-up" to your marriage.
Registration is still going on. Look for the event on Eventbrite by searching for this: "Celebrating Marriage."
Pass it along to others if you don't live around DC area but know someone who does and are married.
Yes, this is a program exclusively for married couples only.
Happy Monday to all of you! ///