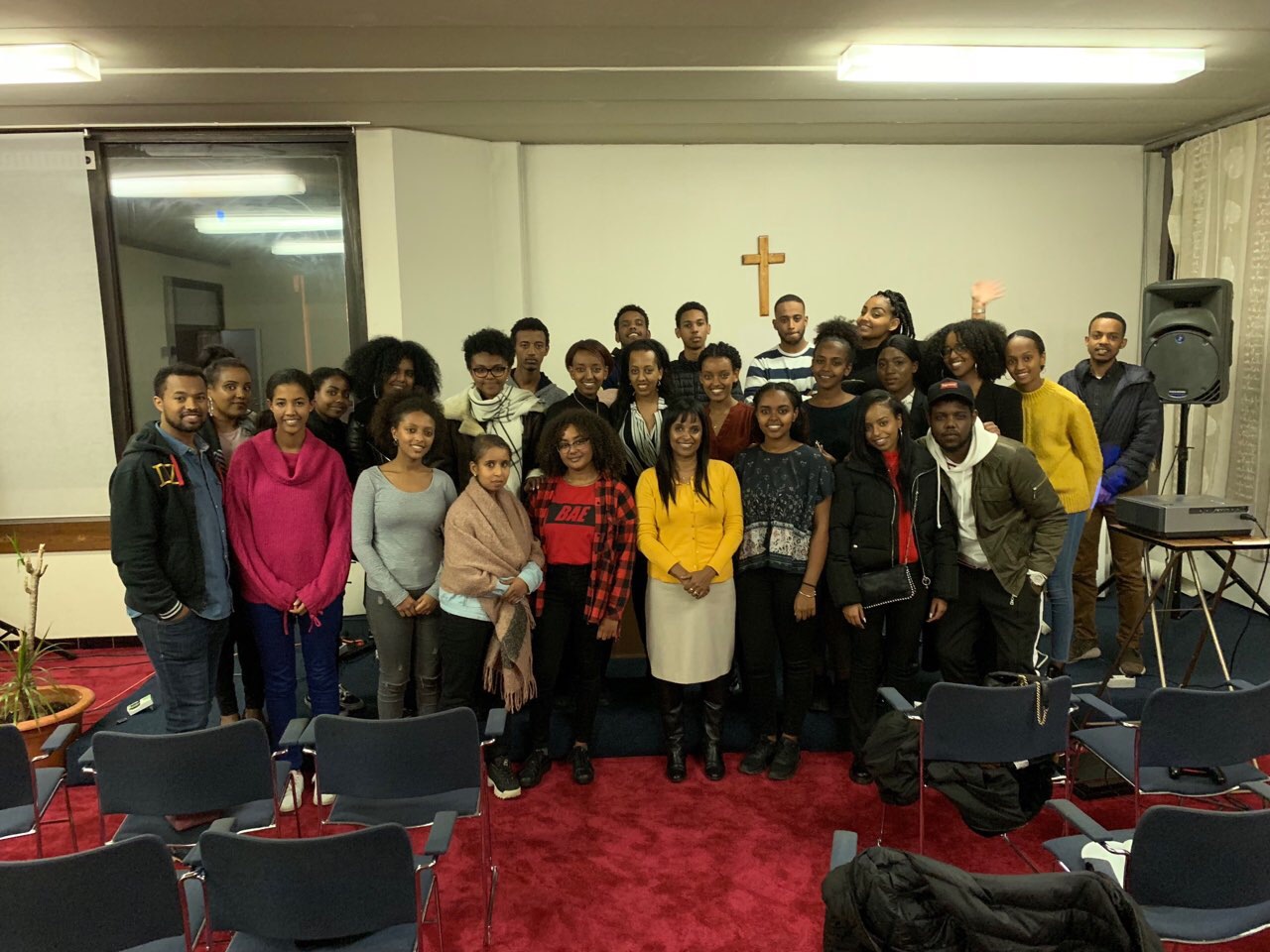 Praise God that I am back to Maryland.
But dealing with jet lag is not fun at all.
Hey, it is okay. I had the most wonderful time ever at Brussels, Belgium! Before I say anything though, let me thank some people who made the conference a success.
I first want to thank Pastor Getachew Feyissa and his better half, Tsehay, and all the leaders and elders of the Ethiopian Evangelical Church in Brussels, Belgium (EECBB) for inviting me to come and worship God with them.
I especially would like to say thank you and may God bless you to Tsehay who cooked the most delicious and healthy meals for my very sensitive and unnerving intestine. Thank you Tsehay! Because of you, I made it back home feeling healthy and strong. Appreciate your kindness very much.
I also want to thank the three young leaders of the youth ministry of EECBB who had worked hard to plan this wonderful and meaningful program for the young adults (17 and older). I also want to thank Adiam, who came all the way from Holland chaperoning with a number of young people for two days, taking responsibilities for their lodging and everything.
What a joy for me to see people like Adiam who are willing to sacrifice their comfort and convenience so that young people (the next generation) find answers in the area of sexuality according to the word of God. May God repay you, Adiam, in double portion!
I also would like to thank everybody who attended the adults program which was on Sunday, the whole day.
In short, I had a blessed time in Brussels and Leuven, Belgium. I met wonderful brothers and sisters in Christ. The picture you are looking at, well, we took this picture at the end of the young adult's program. Most of the young people who came from Holland had already left at this time. I think this is half of the people I spent time with. And most of them, I didn't say all of them, but most of these beautiful young people are singles.
Oops! I said it, didn't I? What's wrong with me????????
Oh, well, it slipped out of my mouth now. So, I may as well talk about it more. So, if you are single, I am telling, you may want to drop by at EECBB and spend a week or so, just to worship God and meet the coolest Dutch speaking Ethiopians and Eritreans. And hear this: Most of them speak perfect Amharic, with a slight Dutch accent which made the Amharic sound so sweet. Believe me, if you hear my advice and go there, you will thank me for the rest of your life.
Okay, back to my jet lag. Yes, getting up at 2am is not funny at all. I hope and pray that I will get used to the Maryland time zone soon.
You know what is in my heart now? This!
Even if our life in this world cannot be as perfect as we would like it to be, it is always good to take shelter in the perfect God who knows how to comfort us in His presence.
"You will make known to me the path of life; In Your presence is fullness of joy; In Your right hand there are pleasures forever." (Psalm 16:11 NASB)
God said, "If you look for me wholeheartedly, you will find me." (Jeremiah 29:13 NLT) –
Amazing promise from the God of the Creator of the Universe! So, let's seek Him. He is closer to us than we think or imagine. Joy, peace, rest, true happiness and pleasures are only found in Christ Jesus. Nowhere else!
Our enemy doesn't fear us when he sees us sing and shout hallelujah. He fears us when he sees us making Jesus Christ the only source of our joy, pleasure, rest and peace. ///