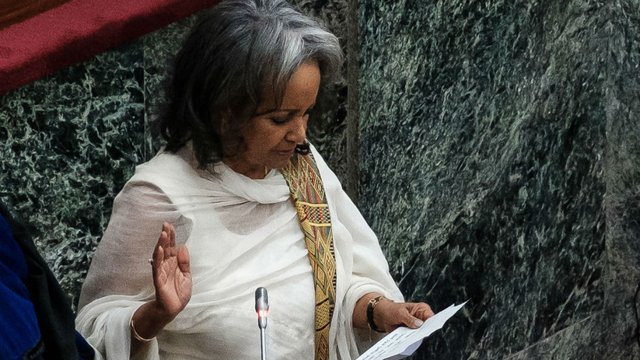 The first Ethiopian women president:
President Sahle-Work Zewde!
Well educated and experienced candidate for the job!
I can't express what I am feeling right now. May the name of Jesus Christ be praised forever!
Oh, Dr. Abiy Ahmed Ali (the new Prime Minister of Ethiopia)! How can I thank you enough!
May God bless you! You are the leader of this amazing change and movement. May God protect you, your family and all who labor with you day and night!
Big respect and honor to Dr. Mulatu Teshome, the previous Ethiopia president, who resigned peacefully to let this new change come into success and completion! May God bless you, Dr. Mulatu!
I think I am emotional now. A woman president, in Ethiopia! Oh, LORD, am I dreaming or what?
I pray that this wonderful woman, President Sahle-work Zewde, will primarily get rid of the heinous practice called Female Genital Mutilation (FGM) from the the whole land of Ethiopia.
I thought FGM was one of the bad stories of old times of Ethiopia. But to my surprise, I recently learned that FGM is actually practiced as we speak in some parts of Ethiopia. Some studies have shown that in some regions, as high as 90% of the female population suffer from FGM. This is the most heinous way of destroying a woman's life and it has to stop NOW!
I know, God will do this!
President Sahle-Work Zewde: May God be with you! May God make you His agent to change the lives of many women and children in our country. May God use you to bring this beautiful country of ours, Ethiopia, to peace and unity as women get involved in all sectors of the community.
God bless Ethiopia and all Ethiopians!
Again, congratulations to us, to all Ethiopians! ///