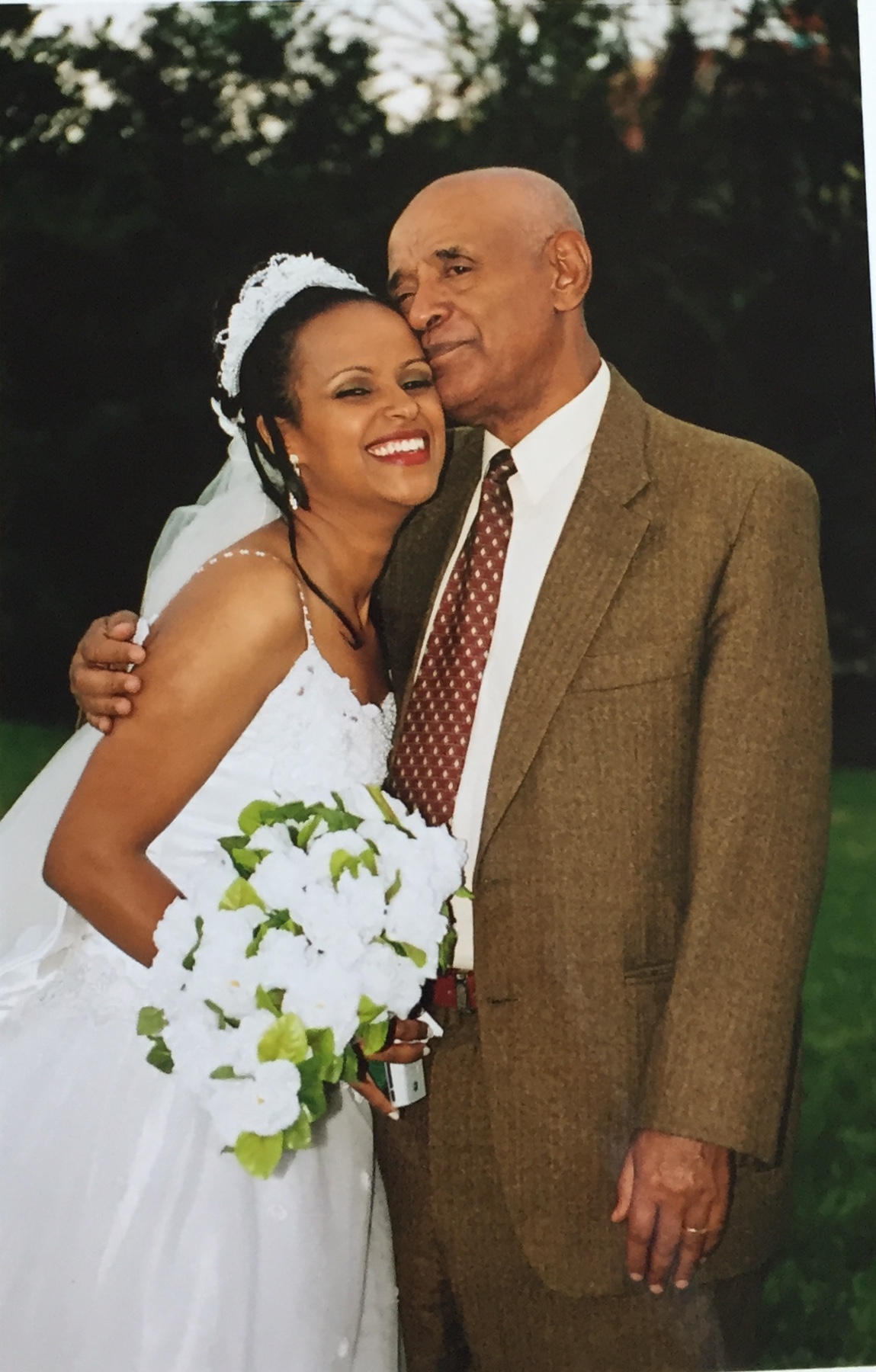 It was on this day, last year, on August 09, 2017, that I lost my dad. My father, Tadesse Kifetew Abetew, went to be with the LORD Jesus Christ at the age of 85.  
After a year, I was able to go through my photo album to see my dad's pictures. Now I know that losing loved ones is the most painful experience in this life.
I am my dad's 8th child out of 9 children and I sometimes feel like I am his only child and I don't really know why.
No, my dad was not a perfect dad. Just like me, he was an imperfect parent but I would have taken my imperfect dad for another thousand years if I could have him back again. But God chose to take him and God is right.
I thank God for everything. God didn't let my dad suffer. It was my father's daily prayer, never to be bedridden and God answered his prayer. My dad received Jesus Christ as his personal Lord and Savior at the last hour, in the most glorious, amazing and heavenly orchestrated way. He heard the Gospel at the last moment of his life and he responded to it positively and my dad didn't utter any more words after that.
You know, my dad used to care about Ethiopia a lot. He lost his dad at the age of 9 when his dad fought against fascist Italy. To the last moment of his life, my dad prayed for Ethiopia and all Ethiopians. He always says to me, "Never decide to live abroad for good! Don't forget your own people and country! You are an Ethiopian! So are your children!"
I wish my dad saw and heard one of our new Ethiopia Prime Minister, Dr. Abiy Ahmed Ali's speeches, at least once. It is okay. God is always right.
My dad taught me lots of things in my life, starting from making dictionary my best friend to getting married until death do me part from my husband.
This was my last serious conversation with my dad. It was April of last year. I was there for a two-week short vacation. One morning, I dressed up and walked out of the house. He was sitting outside in his beautiful garden (I will say, in my mom's garden because she is the one who takes a good care of the garden). Going to the outside gate, I said, "Good morning and good day Dad!"
He knows all my jokes. So, he smiled and asked, "Where are you going?" I said, "To help a couple to stay married or, – – -."
I didn't even finish when he said, "Stop your joke, tell me the truth." My dad doesn't like the word "divorce."
I laughed and said, "No dad, this is serious. The man doesn't listen to any advice. He wants to keep this another woman in addition to his wife."
Then we ended up arguing about what Jesus said on Matthew 19:9.
No, I don't try to convince my dad. If he takes a stand on something, he doesn't change it. So, at the end of our argument, I said, "Okay, dad, just pray for me for God to help me to help this couple stay married," and I left. Oh, how I miss even our continuous and "endless" fights!
My dad hates to hear anybody getting a divorce and he always encourages me to never let go of my marriage for any reason. He says, "Always remember this: There is no good enough reason to get a divorce."
I don't know if I ever thanked him enough for this timeless and priceless lesson that he taught me.
Let me thank him here. You never know, he may read it.
Abate (my dad), the one I love and continue to love till the end, thank you for speaking the truth about the permanency of marriage into my heart. I promise to treasure this truth in my heart not only to help me keep my own marriage but to help others keep their marriages as well.
Oh, Abate, I missed you a lot! I missed hearing your voice on the phone. I missed your laughter. It is okay. I have hope in Christ to see you again.
Oh, what a wonderful, joyful and glorious day that will be!
"Brothers and sisters, we do not want you to be uninformed about those who sleep in death, so that you do not grieve like the rest of mankind, who have no hope. For we believe that Jesus died and rose again, and so we believe that God will bring with Jesus those who have fallen asleep in him. According to the Lord's word, we tell you that we who are still alive, who are left until the coming of the Lord, will certainly not precede those who have fallen asleep. For the Lord himself will come down from heaven, with a loud command, with the voice of the archangel and with the trumpet call of God, and the dead in Christ will rise first. After that, we who are still alive and are left will be caught up together with them in the clouds to meet the Lord in the air. And so we will be with the Lord forever. Therefore encourage one another with these words." (1 Thessalonians 4:13-18) ///