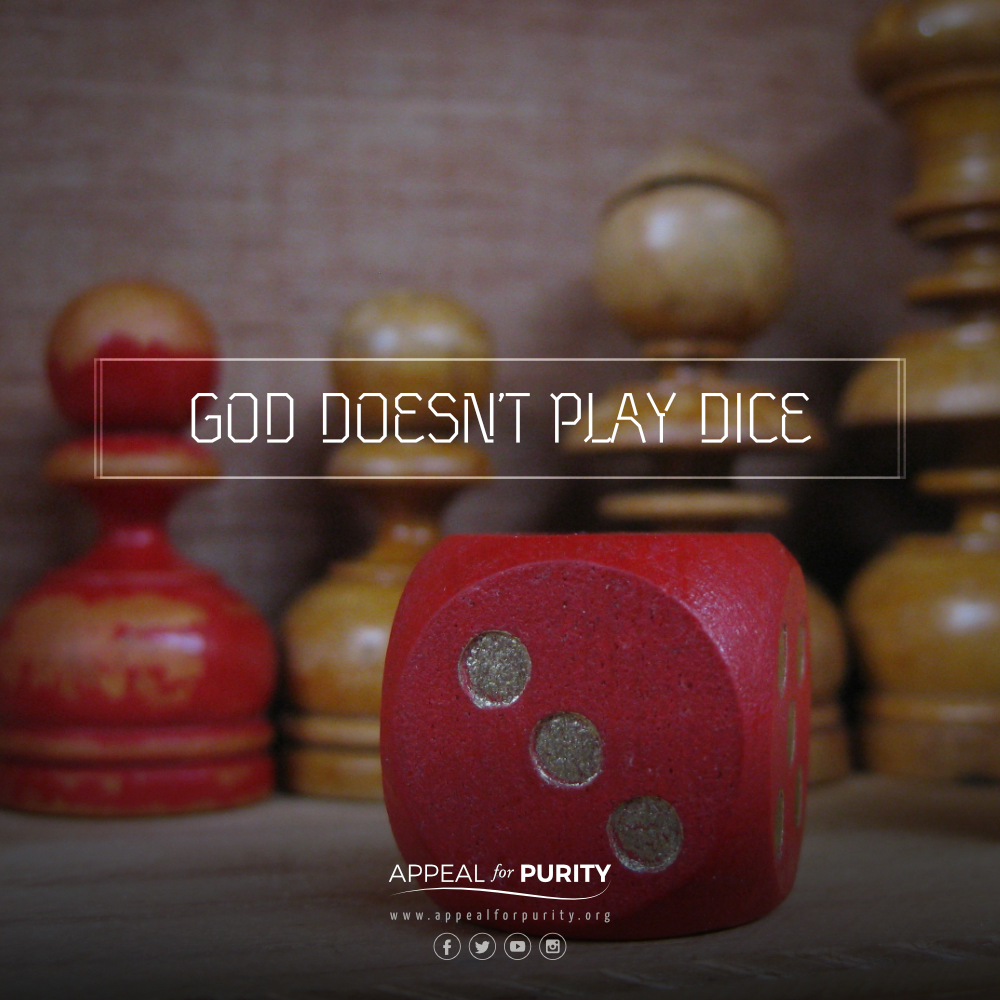 "God doesn't play dice" – How true that is!  
Can you just imagine for a second what life would be like if God plays dice on us? When we ask God something, God rolls a dice, then the dice will be the one to seal our fate, without any responsibility and accountability expected from us or God, just total luck!
Wow! Praise God that God doesn't play dice!
Let me give you few examples. Please read the following verses carefully (all from NASB).
"You will seek Me and find Me when you search for Me with all your heart." (Jeremiah 29:13) – Key phrase here is "with all your heart."
"Ask, and it will be given to you; seek, and you will find; knock, and it will be opened to you. For everyone who asks receives, and he who seeks finds, and to him who knocks it will be opened." (Matthew 7:7) – Key concept here is: Everything you need from God is available only for the asking.
"But he must ask in faith without any doubting, for the one who doubts is like the surf of the sea, driven and tossed by the wind. For that man ought not to expect that he will receive anything from the Lord, being a double-minded man, unstable in all his ways." (James 1:6-8) – Main message is: Faith in God and His word (not just "faith") is "the hand" you need to have to receive from God.
"So faith comes from hearing, and hearing by the word of Christ." (Romans 10:17) – The "T" Truth is: Faith is ONLY found in letting the word of God dwell in our hearts and minds.
"You ask and do not receive, because you ask with wrong motives, so that you may spend it on your pleasures." (James 4:3) – Key point: As long as you ask "something" to give it back to God for His glory, God is faithful to give you exactly what you're asking.  (E.g. A story of Hannah 1 Samuel 1 & 2)
"We know that God does not hear sinners; but if anyone is God-fearing and does His will, He hears him." (John 9:31) – The message is, God always hears the prayers of a repentant sinner (E. g. The story of Peter who denied Jesus, story of David who committed adultery).
"This is the confidence which we have before Him, that, if we ask anything according to His will, He hears us." (1 John 5:14) – The punch line: To receive, ask according to His word which is His will.
"For there is no partiality with God." (Romans 2:11) – Means, God hears everyone's prayer and He is found to anyone, means "ANYONE," who approaches Him according to His word. God is not a respecter of persons but His word.
Do you see how God doesn't play dice? Rather God works in our lives according to His word. He is too faithful to play dice on us. He is faithful even to the dot of His word. Outside His word, the God of the Bible is nowhere to be found. Let's not ever forget that. ///