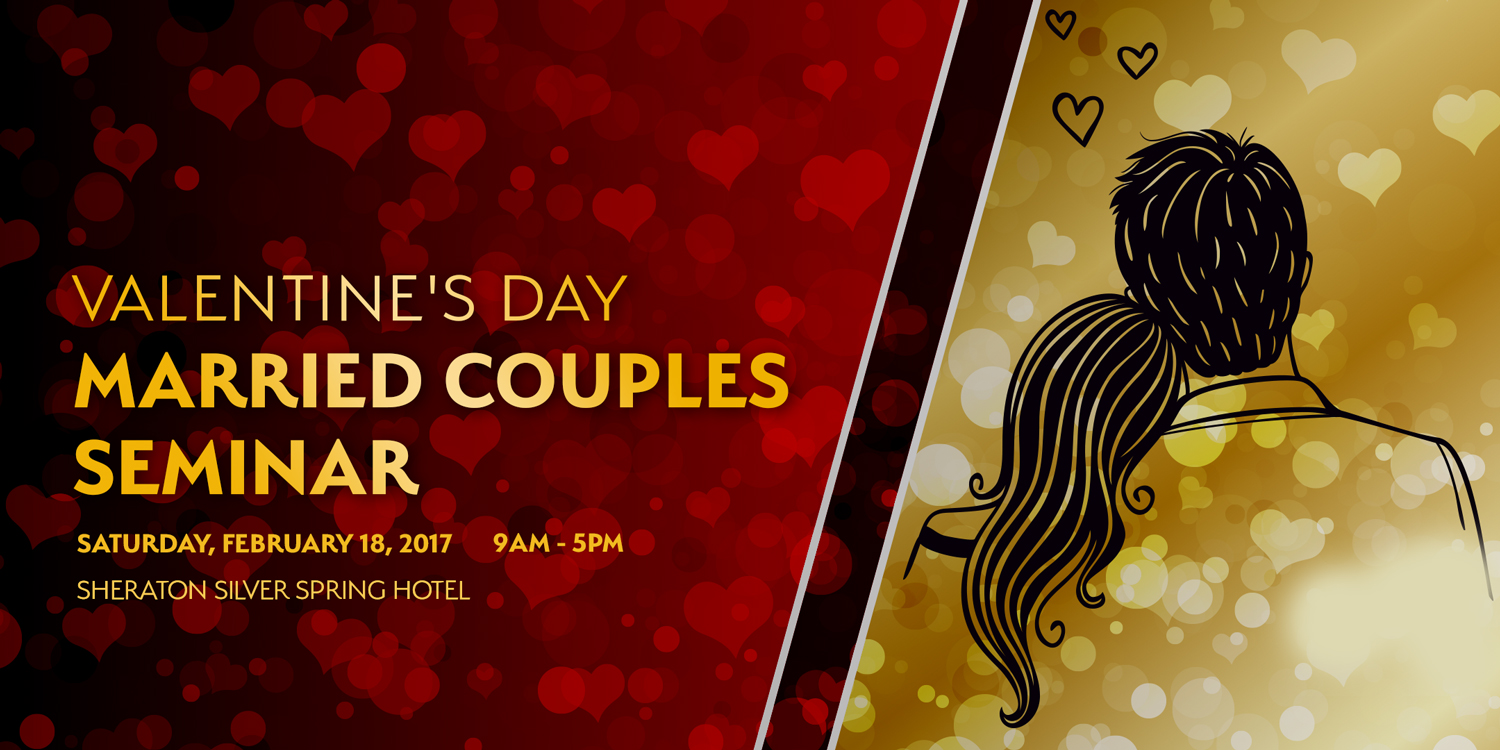 What an exciting and productive New Year this has been! I'm telling you, I'm literally falling in love with 2017! Praise God!
One of the highlight of my excitement this year has so far been the upcoming first time married couples seminar hosted by Appeal for Purity.
God is faithful! He leads; if we trust Him and follow, He makes a way in the wilderness and streams in the wasteland (Isaiah 43:19b). Isn't He an amazing God! He is!
My friends, we need to fight for our marriages and for our innocent children. To do that, we need to put our differences aside and stand on things we all agree on!
I thank God for every couple who has registered to come to this seminar, people from evangelical as well as Orthodox churches here in the DMV area. It is just encouraging, exciting and inspiring for me to see this momentum!
This has been my prayer for a long time and God is answering my prayer as He always does!
My soul praises Him forever!
So, I am so looking forward to this seminar because I know that when we agree to disagree and work together in the area of life that we agree on, the Spirit of God honors our hard work and gathering and blesses us with His presence. Listen what His presence does:
"Now the earth was formless and empty, darkness was over the surface of the deep, and the Spirit of God was hovering over the waters." Genesis 1:2 and continue reading the rest of it.
Sometimes our lives and marriages become formless and EMPTY; the only thing we see is darkness (grief, regret, sadness, stress, despair, pain and hurt). And what we need in this situation is for the Spirit of God to come and hover over our marriages and lives. Then order, love, peace, joy and beauty will set in!
So, let's come together in one accord, for one purpose, to learn how we can bring our first love back into our marriages so that our kids will have a better tomorrow.
Our kids may wear brand clothes, have all the latest gadgets, live in a mansion and go to prestigious schools but all these things mean nothing unless they have a house they call home; a home where they find two loving people, their mothers and fathers. This has always been the order of things from the beginning of time and it will continue to be whether we believe in God or not.
Anyways, I'm dropping by today to let you know that today is the last day we take registration in a face to face setting; and our Eventbrite registration page will close down on Thursday, February 16. So, pretty much, this is the last day I'm making this announcement on this page regarding the Valentine's weekend seminar, on Saturday, February 18 from 9am to 5pm at the Sheraton Silver Spring Hotel.
There won't be any registration at the door on Saturday. Please make note of that. 
If you don't live in the Washington, DC area but know some people who do, let them know about this seminar.
Have a blessed week everyone! ///
P. S. Oh, I forgot to mention this: There is a dress code for the occasion. Ladies, please don't wear your pair of jeans. You look good in them but for this occasion, wear your cute dress, looking sharp and cute; making your husband's heart skips a beat. And husbands, here is the instruction for you: Stop your car at the hotel entrance door and come out and open the car door for your bride and lead her to the hotel and tell her to wait for you in the lobby and go and park your car at the back. Then come to the lobby and hold your bride's hand and lead her to the venue. Pull the chair for her and make sure your bride is comfortable. In short, treat her as if that Saturday is the day you are going to propose to her. Make her feel like she is the last woman left on earth. Don't worry, I have a good message for wives. You won't leave the seminar feeling depressed! I promise!