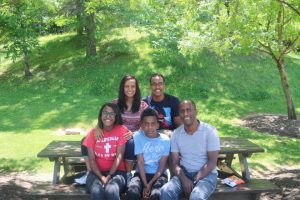 My family and I are now back in Maryland, Praise God! We were in Cincinnati, Ohio for the International Christian Retail Trade Show (ICRS) and my husband (Berhan) and our kids sacrificed a lot to be with me. I am not sure how to thank them!
A few weeks ago, I announced on this page about me traveling to Cincinnati asking, if there was any church in that area. Well, members of one church, Peoples Church, reached out to me, and my family and I went to their church last Sunday morning. So, before I say anything, I want to say "Thank you" to many people.
I first want to say "Thank you" to Pastor Chris Beard and his beloved wife, Jan Beard and Jamie Baxter who welcomed my family and I like their own family. Thank you and may the LORD bless you!
These kind people not only welcomed us but also gave me few minutes to introduce my book to their Sunday morning service English speaking congregations (two morning services) and to their Amharic speaking congregation.
And the response was overwhelming. They decided to launch the CG-STAT program in their church (CG-STAT – "Chosen-Girls-for-Such- a-Time-As-This"; a mentoring program for young girls, using my book, "Beyond the Fairy Tale" as a text book).
Who put all these things together, for me to know these wonderful ministers at Peoples Church? Sofie Ezaz, a secretary of Peoples Church.
Oh, Sofie, how can I thank you enough! May the LORD bless you my beloved sister.
On Sunday afternoon, after the church service, Pastor Petros Yefru, Hiwote Ghion, Muna Gabriel and Sofie Ezaz took my family and I out for lunch. On Tuesday, Muna Gabriel and her beloved husband, Girmai Gabriel hosted a beautiful dinner gathering at their home where we found time to sit in circle, talk and pray together. What a memorable evening!
I also want to thank Martha Davis, Almaz Tsehaye and Solomon Gemeda who made our stay in Cincinnati a wonderful one. God bless you, guys!
I am sharing with you this family picture my family and I took on our way back to Maryland. Yes, we drove, and it was a long drive but with our kids' sense of humor, believe me, we enjoyed every second of it. When we read the "Maryland Welcomes You" sign, you have no idea how excited we all were. And next to that sign, we saw another sign that says, "Maryland welcomes area." I know, Maryland rocks! We even have a special "welcome area" where we said hello to those who came to visit Maryland. So we stopped at that area and took many crazy pictures and this one picture I'm sharing with you all today is the only one picture we all are looking at the camera. One generous Maryland visitor took this picture. It is not focused well but at least you get to see us all, the Banko's, in one picture.
It's good to be back here in Maryland but I sure will travel to Cincinnati soon to once again worship God in a beautiful city, with people who love God and others!
Do you know the Bible verse I was thinking and meditating on throughout the convention and this past week? This one:
"Who am I, Sovereign Lord, and what is my family, that you have brought me this far? " (2 Samuel 7:18b)
May the Name of Jesus Christ be glorified forever! In Jesus Christ, I live, move and have my being! May His Name forever be lifted up in and through my life! ///