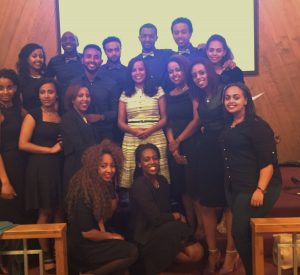 Before I go to bed, let me share with you this one pretty picture I took with the Lancaster Single's Ministry worship leaders. Not only beautiful and handsome but these people are very gifted worship leaders.
Well, one talented worship leader was invited over to the conference with her youngest brother (her brother plays instrument) and guess where these gifted and talented brother and sister live? They live here in Maryland but I have never gotten a chance to know them until this past weekend.
They are Rehoboth and Amanuel Abdissa. Rehoboth has the most amazing voice I've ever heard. When I heard her voice for the first time on Saturday morning, I was like, "Wow! What a voice! Who is she?" She is the one you see on your right hand corner, wearing pair of jeans and her brother is the one you see at the back, with four guys, he is the second one from the left.
Glad to introduce these beautiful people to you all. ///