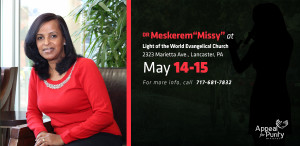 God is good all the time; and all the time, God is good!
Here again God opened another door for me to travel to another city to worship Him with His people.
May 14 & 15, I will be ministering in Lancaster, PA at the Light of the World Evangelical Church. If you live in that area, I invite you to come out and worship God with us. If you don't live around Lancaster area but knows someone who does, invite them over on my behalf. For more info about this conference, call the number you see on the flyer.