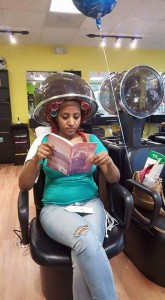 A beautiful day such as today makes me want to meditate the Word of God even more. Here is the Word I'm meditating on since last Monday: "To fear the Lord is to hate evil" (Proverbs 8:13a)
For me personally, looking at a bright and beautiful sun early in the morning is like, listening to an anointed preacher speaking on a topic called "A Lasting Hope!" Seriously I love bright and sunny mornings! I see them as signs of God's unfailing mercy and grace! Hallelujah! Please don't ask me about snowy and rainy seasons. I'm not sure their meaning and I don't appreciate them both!
Anyways, moving on with our competition, our next beautiful contestant is from Washington, DC. Her name is Zebib Ebrahim. Her favorite quote from my book is, "Every sin begins in the mind." I love it!
Do you know what I like about Zebib's picture? Well, sitting under a hair-dryer is not my favorite thing to do; but I always make sure I take a good book to read so that I don't feel the time. So, Zebib, you did well by taking my book there! A nice choice!
Well, right now, Barkot Nuri (258 likes) from Minnesota is not leading in the competition anymore but Frezer Zegeye from Maryland with a total of 294 likes.
If you want Washington, DC to win, not Maryland, go ahead and like Zebib's picture. Remember there is a prize for a winner with the highest number of likes.
If anyway wants to take part in this competition but doesn't know anything about it, read here: http://appealforpurity.org/2015/06/16/a-game-for-a-prize/
If you didn't order my book yet, here is the link: www.appealforpurity.org/storefront/
BTW, we are not responsible for orders put through other distributors' website. We are only responsible for orders gone through the above link. Most distributors are offering my book but they don't have the book in stock yet. So, your order may take up to a month or so. We highly recommend that you order my book from the Appeal for Purity Ministry website. Since we have my book in stock, ready to go, we will send you as soon as we receive your order.
My book is not in Ethiopia yet. If and when it gets there, we will let you all know on this page. So, stay tuned.
Zebib, I wish you all the best! ///