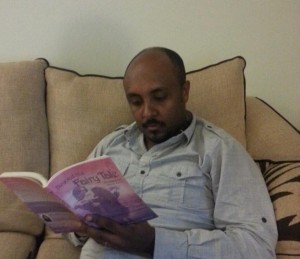 What a joy for me to see a young father reading my book! Oh, my! I can't tell you what I felt when I received his picture in my inbox.
That is it! The main mission of my book, "Beyond the Fairy Tale" is to encourage and motivate parents to teach and mentor their kids in the area of sexuality. Blaming our church leaders or the school and government system won't do us any good. We parents need to step up and claim our parental role back to rescue our kids from the philosophy of this dark world's "sexual revolution."
Whether you are young or old, married or single, woman or man, you will benefit from this book greatly! The puberty chapter may not applicable for all but the other chapters, such as "God's Plan and Purpose for Sex" or "Battling for Your Mind" (which is my number one favorite chapter) will be applicable to all.
The name of the young man you see in the picture is Frezer Zegeye; he is a husband of one beautiful woman and a father of two little bundle of blessings.
Thank you, Frezer, for buying and READING my book and thank you for sending in your picture!
Frezer's favorite quote from my book is: "God doesn't do anything without plan and purpose and all his plans and purposes are good, and pleasing for us." page 59 (Life principle) – this is the same quote Barkot Nuri picked. BTW Barkot Nuri, who is from Minnesota, is leading in the competition with a total of 253 likes.
Is Barkot going to win? God knows!
Well, if you want Maryland, not Minnesota, to win, "Like" Frezer's picture and let him get the prize.
If you want to take part in this competition but don't know anything about it, read here: http://appealforpurity.org/2015/06/16/a-game-for-a-prize/
If you didn't order my book yet, here is the link: www.appealforpurity.org/storefront/
My book is not in Ethiopia yet. If and when it gets there, we will let you all know on this page. So, stay tuned.
Frezer, I wish you all the best! Make sure you ask all your friends and relatives to like your picture! ///