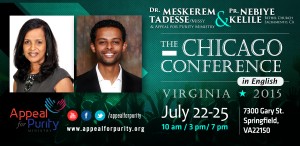 From yesterday's flyer, there was one important piece of info missing. An updated version of the flyer is attached with this note.
The Chicago conference that is going to be held in Springfield, VA from July 22 to 25 is going to be in English!
The main target audiences are the Ethiopian and Eritrean diaspora young women and men who speak English.
Make sure you spread the word. Encourage the young people to come over to the program if they are older than 18 or bring them over with you if they are younger than 18 and older than 13.
We sure are going to have a life-changing time together! Yes, that is exactly what is going to happen when the Holy Spirit takes over a program! Don't miss it! ///