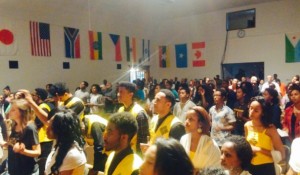 Hello, to you all the Appeal for Purity Ministry Facebook page fans!
Did I miss writing? You bet I did! Whenever I travel, other than missing my loving husband and kids, writing is the one thing I miss the most!
Well, I had a wonderful time at Minnesota! I was one of the speakers invited to speak at the 9th annual United Youth for Christ (UY4C) conference.
As usual, before I tell you anything about the conference, I want to say thank you to the people who invited me over and made my stay in Minnesota a meaningful one.
I would like to say "Thank you" to Pastor Endiryas Hawaz, the senior pastor of the Ethiopian Evangelical Church in Minnesota (EECM), the hosting church pastor.
I would also like to say "Thank you" to the Youth Ministry pastors of EECM, Pastor Estifanos Alemu and his better half, Meron; Pastor David Phandi and his better half, Neela Bhaskarla. You guys are one of the few passionate and on the fire groups of youth ministers I so far met! I so appreciate the love and care you have for God as well as the youngsters you minister! May the LORD bless you and everything you do for the Kingdom of God!
I would also like to say "Thank you" to all the Minnesota area churches' pastors and ministers, who work together in the UY4C, for inviting me over. Thank you to all the other area churches' ministers and chaperons (parents) for coming together or sending over the youngsters to the conference. Blessing to you all!
Dr. Bekele Shanko was the other speaker and I can't tell you how much I learned from him in this past weekend. He challenged me in many respect. He challenged me to press on, forgetting what the enemy is up to but focusing and gazing on who God is and what He has in store for this and the next generation. He also challenged me to ask God to do not small but great things among His people because GOD IS TOO BIG to do small things! What an insight! Bless you Dr. Bekele!
Special "Thank you" goes to the most amazing couple, Yared Kassa and his better half, Sara Bushen. I wish I could write their fascinating, godly and praiseworthy life stories here. Many people may have good life testimonies but this couple's testimony, how they met and how they honored and glorified God in their oneness is just off the chart! Thank you Sara and Yared for setting the standard too high; and above all, thank you for investing your time and energy in the life of the next generation! Yes, my heart beats in the same rhythm as yours! Blessing to you and yours!
United Youth for Christ (UY4C), which is led by 12 area churches' pastors and leaders, brings the youth together, youth from Ethiopian and Eritrean churches; and from American, Spanish and other ethnic group churches. The leaders of these churches may have cultural and language barriers which kept them far away from each other; but the leaders sent over their youth so that the youth will seek and worship Christ in one accord! I was totally overwhelmed by the spirit!
Wow! Just, wow! You can just imagine how tangible God's presence was throughout the conference. Personally, it was an amazingly unique and life changing time. There were lots of young people, teens and young people in their early and late twentieth, who came from all over Minnesota area, Chicago, Illinois and more. What a privilege for me to speak about sexual purity in the lives of those who are ready to take the baton from us to give it to their peers as well as the next generation! That for me is nothing but a PRICELESS PRIZE directly from God! Thank You, my Father, for setting my foot on the hills! I praise You for the rest of my life!
I am more eager now than ever to see God's move in the lives of many young people because I noticed how God is orchestrating many things to raise many SAMUELS among the nation. Yes, we may look around and feel frustrated for seeing sexual immorality taking the stage of all social media, even church pulpits. But hey, God is in control! Behind the scene, God is at work! He is working with those who are willing to turn their lives around to be used by God to save others from the trap of the devil! What a merciful and compassionate God we serve! ///
P. S. The picture you see doesn't show everybody, only 60 or 70% of the youth.