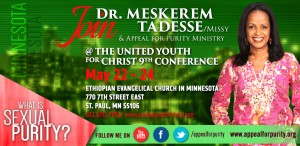 Wow! God is opening up amazing doors for me and the Appeal for Purity Ministry! May His name be praised forever!
What a privilege to be able to invest on the next generation of young men and women in the area of sexual purity!
Yes, I'm more than excited to travel to Minnesota next week to be part of a conference hosted by nine Minnesota area local churches, including Ethiopian and Eritrean churches, from May 22 to 24.
This is not the first time they put this conference together. As the ad implies, this is their 9th annual conference.
So, if you have or know anyone older than 13 and single, send them over to this conference. They are expecting teenagers to come from all over America (even from other countries). The program will be in English; that means our poor diaspora kids who are struggling with our native languages won't have a problem to understand the message.
For detail info, check out their Facebook: https://www.facebook.com/events/456097521234920/
For those of you who live in Minnesota area, I am going to do interview with the local Amharic radio station host this coming Sunday regarding this conference. So, stay tuned. ///