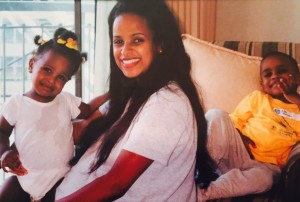 While my Berhan and I were cleaning up old boxes we put away in our basement for the last, God knows how many years, I found very old pictures, pictures we didn't even know we had.
While my Berhan was too focused on cleaning up, I took the corner spot to look through those old pictures. I found all those goofy and funny looking pictures My Berhan and I took when I was a teenager and he was in his early 20th. Then I found pictures of all our pregnancies and delivery room pictures. It is just beautiful!
When I looked at some of these pictures, my eyes quickly welled up with tears. Flashes of good memories flooded my soul and I couldn't rejoice. I actually felt very sad.
"Why are you sad?" You may ask.
Well, because I noticed all the wrinkles on my face? Well, not really, even if that is the one thing I need to grieve over. I was sad because I noticed that my kids, little by little, without me noticing, are spreading their wings to fly away, never to come back but to build their own nests to start their own individual life, a life that doesn't including me.
Oh, how I used to rejoice in all those breastfeeding moments, including all those precious first day exciting moments including their first shower, first word, first step to walk by their own and their very first day of school moments! Oh! How I wish if I could rewind each one of those moments!
Staring at this picture I'm sharing with you, where I see myself, my two handful little kids and one child I carry in my belly, I felt like I wanted to speak to my kids who are in the picture.
"But" I began to speak, "I carried you in my womb; I breastfed each one of you; raised and cuddled you; I loved you with every fiber of my being; not to mention that I changed your soiled diapers. You can't now just grow up and leave me."
And I felt like all my kids, even the one in my belly, were replying back to me saying, "But mom you did all that for us so we grow up and be on our way. Didn't you pray for us to grow up? You won't deny that, will you? Well, God is answering your prayers. "
Sure, I can't deny that; I prayed to God to let my kids grow. When two of them at one point had to go through different surgeries, I remember crying, walking on my knees, repenting of all my sins all night long, asking God, "LORD, please, let all the consequences of all my sin fall on me, not on my kids. Spare them in Your grace and mercy."
When one of our kids ran a fever as high as 102, I remember pleading with God saying, "LORD, please take me before my child. Please don't touch my kids. Do whatever You want with me but not with my child."
I thought my kids were mine; I didn't know that they actually are His.
Indeed, pictures speak volumes!
While I put those pictures away, I remember this verse: "she always faces tomorrow with a smile." (Proverbs 31:25) So, I said to myself, "I better face my tomorrow with a smile", not with a smile wishing to keep my kids for myself, which I can't as my own mom couldn't keep me to herself, but facing my tomorrow with a smile knowing that the Son of God who came to my life is here to stay with me forever. Jesus never leaves me to start His own life; I'm His business (Psalm 121:3-4). I'm His and He is mine forever (Song 2:16)! Maybe that is why the Bible says, "Rejoice in the Lord always. I will say it again: Rejoice!" (Philippians 4:4) Why? Because Jesus is the only true and lasting reason to rejoice over! ///