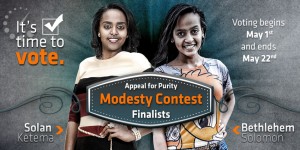 Few months ago, I announced one competition called "The Ester's Kind of Modesty Competition" and more than 18 girls signed up for it from different countries. I asked the A4P fans to donate money for the cause so that the winner of this competition will receive cash.
Many people donated, including one generous donor who donated; and then donated to round off the total donation. The total donation was around $575 and he rounded it off to $600 (sorry, he told me not to mention his name). So, the winner of this competition will receive $500, she will take the title of "Queen of Modesty", and her picture will be the cover picture of the Appeal for Purity Ministry Facebook page for one full month. The runner-up will receive a $100 recognition award.
Thank you so much for all of you girls who took part in the competition! Thank you to all of you who donated for the cause! I really appreciate each and every one of you. As I promised in the beginning of this competition, every penny will go directly to the final two winners! No compromise on that!
When this competition was launched on this page, there were only 2K likes; that means there are at least 7K of you who have no clue what I'm talking about here.
So, let me brief you.
As I said, the competition is called "The Ester's Kind of Modesty competition" because Ester won the king's heart not by sexually seducing him but by adorning herself modestly, highlighting on her inner beauty (Book of Ester). So, the purpose of the competition is to promote inner beauty, to bring back the message of modesty in our Christian community; to encourage all women who profess to be Christ's followers to wear modestly (1 Timothy 2:9-10 & 1 Peter 3:3-4); and to celebrate and reward modesty when we see it. So, the girls who signed up for the competition were asked to send out their pictures along with written answers to the questions they were asked.
After three rounds of competition, we ended up with two finalists, Solan Ketema and Bethlehem Solomon.
Now, you, the A4P Facebook page fans are going to vote to which one of these two girls you want to give the title of "Queen of Modesty". The two finalists were asked to make a video of themselves answering the last three important questions, why do you take part in the competition? What is the take home message? and, What do you have to say to other girls regarding modesty? We will let you watch those two videos so that you can make your mind.
Most of us complain about how girls dress up in our churches but I think complaining won't do us any good. Some girls don't know what modesty is all about. When I was a teenager and in my early and late 20th, I didn't even know the word modesty, let alone knowing how to dress up modestly (well, truth to be told, I still need my husband's help). So, there are many girls out there like me who need someone to tell them what modesty is all about; and to show them how to be cute, attractive and beautiful without sexually seducing any man; so that not even a hint of sexual immorality will be found in the way they present themselves (Ephesians 5:3).
So this competition is not in any way, form or shape designed to look for a beautiful queen because we all are God's masterpiece (Ephesians 2:10), created in His own image (Genesis 1:26), made wonderfully and beautifully (Psalm 139:14). So, nobody can argue about our beauty. Each one of us is extremely beautiful to the point that nobody can find a copy of our unique finger-prints. Indeed we are God's masterpiece; but this competition is done, in short, to let the message of modesty reign among our churches.
There are many people I would like to thank for making this competition possible: Thank you to all the judges who judged the pictures and the written answers of the contestants (well some of the judges were complaining saying that it was too much work, lol). The judges were, including me, My husband, Berhan Banko, Abraham Behailu, Redi Kidus, Eden Sahle, AfriKa Mwendwa Ndoto and Kibraeb A. Gebreselassie (or KB – Admin of the Appeal for Purity Ministry). Thank you guys! You guys rock!
I also would like to say thank you to one special person who worked very hard behind the scene, working on the graphics (flyers and videos including setting up an excellent program to make the voting process fun and exciting). That talented and gifted person, a husband of one beautiful woman and a father of two young men, a full-time professional graphic designer is Yonas Woldetsadik. Wow! Yoni, I don't know how to thank you enough! May the LORD bless you and yours!
God willing, we are planning to do the next round of competition, at least the first three rounds of competition, live in one day so it won't take forever. Of course next time, the prize will also be better than $500 as you all take part in the donation for this praiseworthy cause.
The voting will start on May 1st and ends on May 22nd at midnight (EST) and we will announce the winner on May 23rd. Before the voting starts, we will let you watch the video and let you all know in detail how you can cast your vote. ///