All the time, God is so good!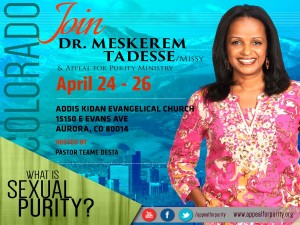 God opened yet another door for Missy and Appeal for Purity Ministry (A4P) to minister His people!
Venue: Addis Kidan Evangelical Church
We're so much excited! All praises, honors and glories be to our Savior and Lord Jesus Christ!
Missy will be ministering to teens, singles, married couples and whole congregation. Please pray for all involved in this program.
You don't want to miss this program if you are in Colorado. Make sure you invite someone out there to come and join us in worshiping the Most High God.
Blessed!