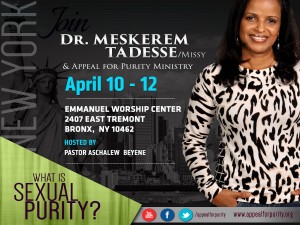 God opened yet another door for me and the Appeal for Purity Ministry to go and minister! Where? At the Emmanuel Worship Center in Bronx, New York from April 10 to 12.
I can't tell you how excited I'm! Praise be to His Holy Name!
Within these three days, from April 10 to 12, I'm going to minister to teens, singles, married couples and to the whole Sunday morning congregation. Don't miss it!
So, if you are in New York, mark your calendar to be there and worship God with us! If you are not going to be in the New York area but know people who are, invite them over on our behalf.
Blessings! ///